COVID-19
COVID-19 INFORMATION FOR MEMBERS
CITY OF LINCOLN PAGE ON COVID-19
The link below will take you to the City's main web page to provide local updates on COVID-19.
https://lincoln.ne.gov/city/covid19/
GUIDANCE ON RE-OPENING AND MITIGATION STRATEGIES
LINCOLN/LANCASTER COUNTY WEB SITE: https://lincoln.ne.gov/city/covid19/business-resources.htm
CDC: https://www.cdc.gov/coronavirus/2019-ncov/community/organizations/businesses-employers.htm
LEGAL ASSISTANCE:
Legal Aid of Nebraska has opened a free hotline for those with COVID-19 legal issues. To apply, please call the COVID-19 Hotline at 1-844-268-5627 or apply online at www.LawHelpNE.org. COVID-19 self-help resources can be found at www.legalaidofnebraska.org
Legal Aid is also part of the new Tenant Assistance Project, an effort to provide free legal representation to those facing eviction. The Tenant Assistance Project was developed by the UNL Law Civil Clinic; the Volunteer Lawyers Project; Legal Aid of Nebraska; the Lincoln Commission on Human Rights; and Nebraska Appleseed. Lawyers interested in volunteering may send an email to nevlp@nevlp.org or call 531-220-6773. All attorneys volunteering through the project will be covered by the Volunteer Lawyer Project's malpractice insurance and will receive training.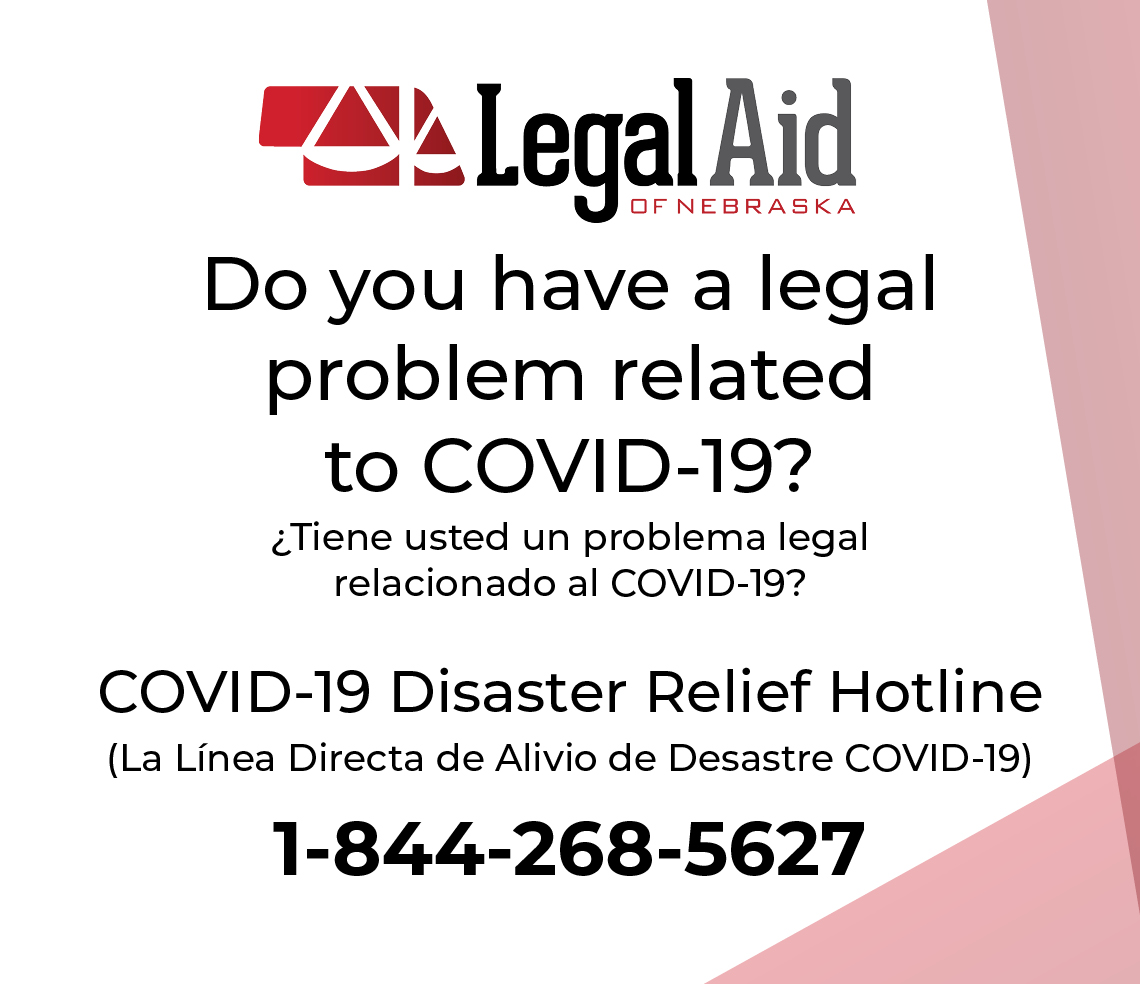 POST YOUR VOLUNTEER OPPORTUNITIES HERE:
Cause Collective members Center for Civic Engagement and Nebraska Impact have volunteer database sites where you can post your volunteer opportunities for free.
NEBRASKA VOLUNTEERS: https://www.nevolunteers.com/lincoln
UNL'S GIVEPULSE PLATFORM: https://www.givepulse.com/group/391190-Service-Opportunities-during-COVID-19
'WEAR A MASK' FLYERS
Flyers created by LCMS (Lancaster County Medical Society) of 'WEAR A MASK - IT IS THE RIGHT THING TO DO' in...
MYLNK APP
The MyLNK app will serve as a critical tool to help all of us get information out to those that we serve. THEY ARE ADDING A SPECIAL SECTION FOR COVID-19!
The website is now up and can be found at https://mylnk.app/home. Please review your organization's entries there and request any regular changes/updates.
To request an update: Click on any service and you will see a link "Report Incorrect or New Information" or send directly to bseck@selectlincoln.org
CORONA VIRUS (COVID-19) CATEGORY:
In this time of quarantine and school being out, they have a category for COVID-19 specific resources, so we encourage you to request an update with any information you have that can support the community. Normally, they do not post short-term services (such as a one-time event), however, please share any service that your organization is offering and they will get it added during this time.
FLYERS:

MyLNK One Pager